Episode 2: FANtasic Nonesense
Wow, I am finally writing the show notes. Basically this episode we talked about fans and junk like that. We have a new segement called "I heard it in Subspace." I think I did a great job considering I had less than 24 hours to whip this one up due to the fact that L was leaving in two days. Can't wait for the next episode.
Stuff from the this show:
Pictures of my collection: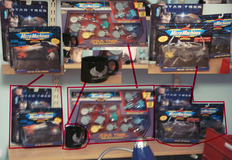 Songs Played:
| | |
| --- | --- |
| Title | Band/Singer |
| Rand | Warp 11 |
| Banned From Argo | Leslie Fisher? |
| Why I am in a Star Trek Band | Warp 11 |
| The USS Make Sh*t Up | Voltaire |
Links to sites visted:
Fan Orgs:
http://www.sfi.org/welcome/index.htm
http://www.region7.com/
http://www.region13.org/
http://groups.msn.com/USSAriNCC1723
http://www.iftcommand.com/
Fan Films
Fan Tributes
Fan Parodies
Star Trek 2.0 Contest
Upcoming Conventions
The Trek Life
Phew . . . I'm done, not that wasn't so hard was it?